Lifelong learner finds fulfillment as Shell business partner
Sep 21, 2017
Thirty-six-year old Erwin Dueñas is not your typical entrepreneur in terms of his boyish young looks, but his affable nature and palpable passion toward bringing out the best in people – himself and others – is what indicates that he was really meant for this type of livelihood and career.
"I was just an average student in school," he says self-effacingly. He pursued two degrees in chemical engineering and chemistry at the De La Salle University, where he met his future wife who studied further on to be a doctor. However, it wasn't until he decided to take up an MBA that his life began to take a different turn.
The real-life atmosphere of post-graduate studies stimulated him, and so Erwin began seriously considering putting up his own business. "Being a Shell retailer was always in the back of my mind," he explains, because his father owned a network of Shell stations in the CAMANAVA area.
He recalls the times in his youth when he would help out in his spare time and learn to relate to various people from all walks of life, from their employees to their customers.
He also had a short stint in a Filipino manufacturing plant after college, where he realized he enjoyed the personnel management aspect of the job more than anything else. "I'm really a people-person," he admits.
Most importantly, Erwin trusted Shell as a global power, energy and gas technology leader—a brand and organization he literally grew up with. "I admire Shell for their integrity as a business, providing quality products and maintaining a high level of service. They also provide good opportunities to people—not only business owners, but their employees and their customers," he explains.
What made it easier for Erwin to strike it on his own is Pilipinas Shell Petroleum Corporation's dealer owned retail business platform, which is an innovative method that provides a strong support system for entrepreneurs who wish to get into fuel retailing. Apart from a more affordable capital investment, they are guided step-by-step by Shell in all aspects of the business, from site selection and equipment to staff training and even marketing.
Thus, in 2012, Erwin finally realized his dreams of becoming his own boss with a Shell retail station in the Rizal area. Given that the biggest hurdle in the business is finding the right employees to serve as frontliners and forecourt attendants, he was well-prepared and up to the challenge given his people-centric nature. "It's really difficult to find good people, but once you do, you will find really great ones," he explains.
Today, Erwin has his own network of retail stations and 60-strong staff in the Rizal area.
The camaraderie among his team is strongly evident in the way that they collectively uphold Shell's high standards of customer service and the company's advocacies of fuel efficiency, road safety, developing smarter products and many others.
Erwin makes sure his employees are well taken care of not just in terms of compensation but even in benefits, training and continuous feedback, because he believes in the basic principle that the employees will take care of the business if these are properly put in place.
The highest culmination of Erwin's dedication to excellence thus far is landing in the 2016 Smiling Stars awards of Shell, a renowned program that recognizes the top performing dealers and service champions all around the globe.
Erwin has joined a list of select few Filipinos who have received the Global Multi-Site Retailer of the Year award—a testament not only to highest sales and business success, but adherence to Shell's standards of safety, quality and excellence. Erwin passed Shell's strict judging process locally before being recognized for the regional level, and then the top global awards.
The Smiling Stars winners are flown to a chosen premier location for the finals, and this year the selected destination was New York City. The award is meaningful for Erwin not much for the monetary reward and fame, but for the continuous learning opportunities through the seminars, speaking engagements and travel that come with the program.
"In this business, it is 'hard to get in, and hard to get out' -- which I find very true," shares Erwin of a line that struck him during the seminars. Truly, for this self-confessed, lifelong learner, making it in a customer-oriented industry such as fuel retail may be difficult, but now he finds that the rewards and personal satisfaction make it even more difficult to envision life outside of it.
Safe to say, for a top achiever like Erwin Dueñas, the future is bright and paved with more smiling stars to guide his way.
Erwin (2nd from right) is shown here together with Mr. Cesar Romero (left), Vice President for Global Retail Network and Country Chair of Shell Companies in the Philippines; Mr. Oying Yam, Vice President for Retail – Philippines; and Mr. Asada Harinsuit, (right), Vice President for Retail – East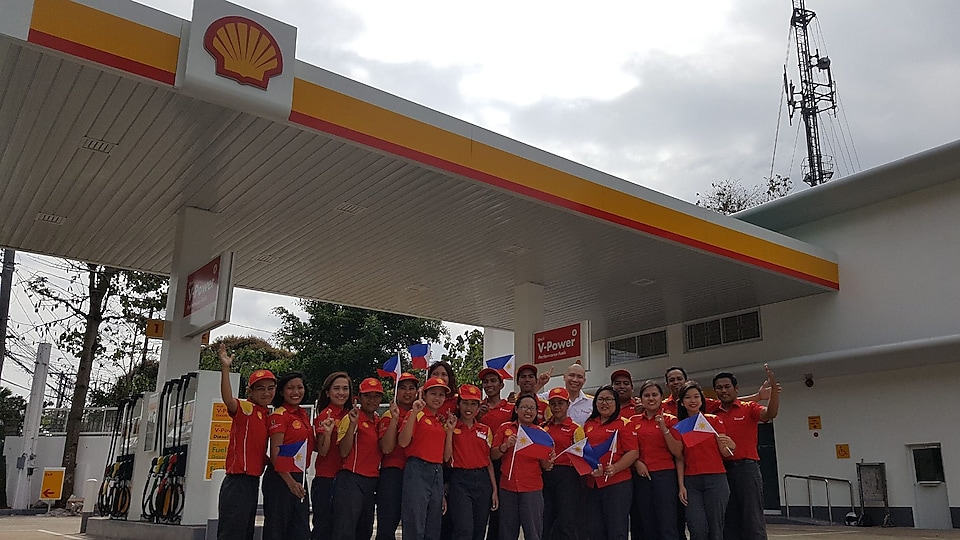 Erwin's Shell family celebrating his win at the station